Puppy News:
Up and coming litters
Our waiting list has reopened and we are currently taking on deposits for our litters planned mid to late 2022
Our next available F1 Groodle litter is expected in the mid months of 2022 at this stage.
Our next available planned F1b litter is yet to be announced.


About us;

K9 Groodles is the proud breeder of both the F1 groodle (Golden retriever X Poodle) and the F1B groodle (Groodle X poodle) and are based in regional NSW. We are not a breeder of the mini Groodle unfortunately and all of our dogs are medium to standard in sizes.
We are a small family run business that has that has many years knowledge and experience with these adorable animals and has been breeding or apart of the breeding scene for over 10 years now.
​Our aim at K9 Groodles is to breed quality dogs that have low/non shedding coat types and lovable fun natures that will suit any family.
We genetically test all of our dogs before breeding with them to make sure no bad genetic traits can be passed on to the puppies. This ensures that the puppies are as fit and healthy as possible before leaving for their forever homes.

Fun Fact
The Groodle was originally designed to help people with vision impairment who had allergies to animals with typical shedding characteristics. And since then the Groodle has become one of the more popular breed types because of not only its non shedding coat type but all of its other lovable qualities.
Groodle puppies from Previous litters

Contact us via Email.
---

Like us on Facebook.
---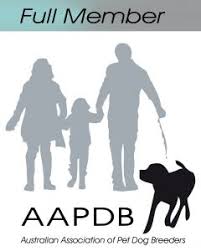 K9 Groodles are proudly a full member of the Australian association of pet dog breeders. Meaning we have completed our necessary veterinary audits and passed.



​
---