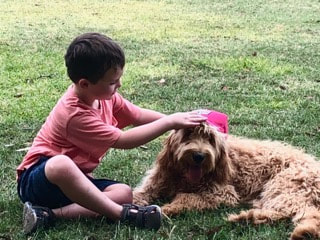 "Hi Brooke,
Frankie is almost 1 now and she is the most divine dog. She has such a loving nature and has fitted in to our family so easily. Although i think she thinks she is one of the boys at times!
Thanks, Victoria."
---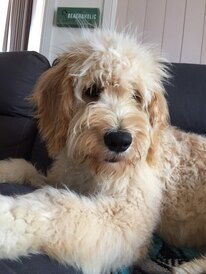 "Hi Brooke,
​We re-named our boy Pancho as we thought it suited him better. He is such a lovely pup, such a calm dog and my best companion! He loves the beach and the water.
​Thank again, Julia."
---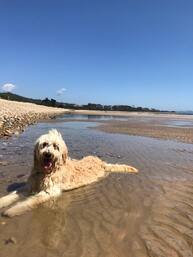 "Hi Brooke,
a little update from our beautiful Gracie Groodle. She's grown into a beautiful big loving dog that loves water and pats from everyone!
Thanks Hannah."
---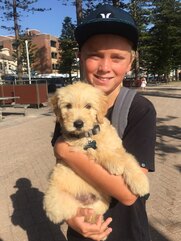 "Thanks Brooke, Barney is adorable. He is such a quality looking, well behaved, playful yet chilled little guy. We love him so much.
​Thanks again Vanessa."
---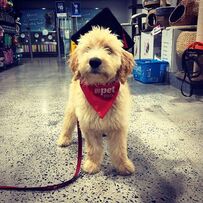 "Thanks so much for the beautiful bundle of joy! He is much loved and living s busy life with my two toddler boys. Fantastic with the kids. It's like having three toddler boys. They wrestle and cuddle all day long!
Thanks again, Katie."
---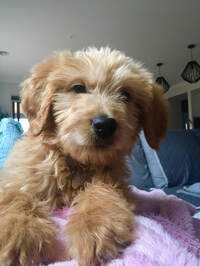 "Hi Brooke,
Just wanted to say a huge thank you for blessing us with our beautiful Ardie boy. He has brought us so much joy. He has the best temperament, so kind, loving and friendly. And he is a super smart boy that loves to show off his tricks.
Thanks again!
​Monique and Mitch"
---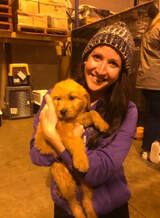 Hi Brooke,
"I ended up going with Pepper. She is a little cheeky and not too girly so it seemed more fitting! I have attached one more photo for you, she has come to work with me today, such a lap dog, loves her cuddles. You have been fantastic to deal with and supportive of this first time dog owner and I can tell you care for your pups well. Thanks so much for everything!"
​Rachel.

---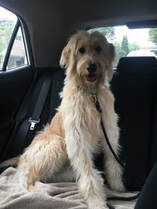 Hi Brooke,
"Willow has been the most beautiful addition to our family. She is so gentle and beautifully natured. She is the life of the party at the dog park, making friends with everyone!
Loves water and incredibly gentle around babies/ children.
The process of getting her was made so simple and we loved all the updates!
Thanks so much."
Sarah and Yiannis.
---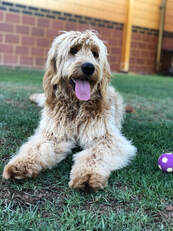 "Hi Brooke,
Daisy is a beautiful little lady. Very sassy, a socialite and full of beans, we have great adventures together.
A lot of people comment on her coat - she's red underneath with blonde tips. Someone asked me the other day if I balyage her.
She's the best decision I ever made. A beautiful girl with a wonderful temperament. Thanks Brooke.
"
​Amy.
---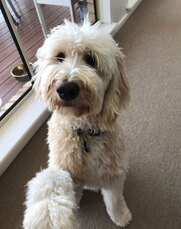 "Hi Brooke,
Archie is amazing,
I'm biased haha but he couldn't be a better dog. No one ever believes me when I say he is just over 1 year old now! He's very gentle and calm and loves to be cuddled more than anything. We live right on the beach over here so we spend a lot of time there and it's his favourite place! Everyone who meets him says "I would get a dog if I knew he would be exactly like this"
​Bailey.
---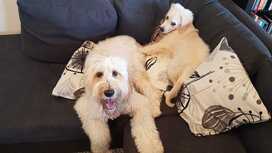 "Hey Brooke,
Henry is just the most wonderful dog - he's perfect for us and such a happy boy. He loves other people and dogs and is such a joy to have in our lives. Doesn't mind a good snooze but loves a run at the park"
​James and Grace.
---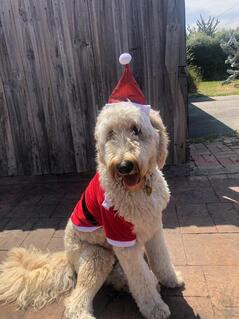 "Hi Brooke,
He is just beautiful, He adores the boys. They climb all over him and use him as a pillow. The three of them do everything together. He takes turns sleeping on their beds and is their shadow. Cries when they are at kinder etc. He is just one of them. We just love him. A big goofy and happy boy. Thanks"
​Katie

---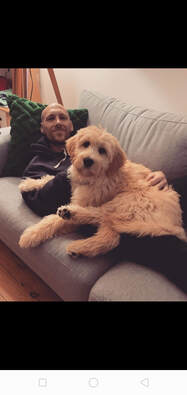 "Hi Brooke,
Just another update of our Darcy, she is honestly the best.. loves her walks and loves attention from everyone and every dog. so friendly and loving.. loves bath time with the kids. Everyone has such beautiful and kind words to say about her. She is absolutely stunning."
Hayley and Dean.
---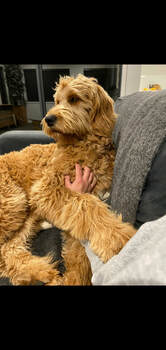 "Hi Brooke!
Thanks again for Gizmo - he is so perfect for our family and we love him so much! He is obsessed with water, his toys and has the best personality. It's like having a fluffy human in the house."
​Sorcha.

---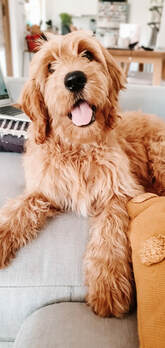 "Hi Brooke!
I Just wanted to check in with you and tell you how much Queenie has changed our lives! She's the best natured dog so cuddly and playful, super social, loves water and loves to sleep in like her mum which is great! We take her to the beach everyday and everyday we get stopped at least once and asked about what breed she is and where we got her from. i can't tell you how many people we have told about K9!
Anyway thanks again for making us the perfect dog! X
​Lily.

---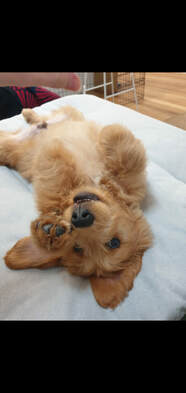 "Hi Brooke!
Arlo is the most beautiful puppy. He is a giant teddy bear- always happy to be carried around by my youger sisters. He's had no anxiety, no aggression, slept through every night since from the first night(!) and has toilet trained really well. He is such a joy. Thank you again for our beautiful boy."
​Abigail.

---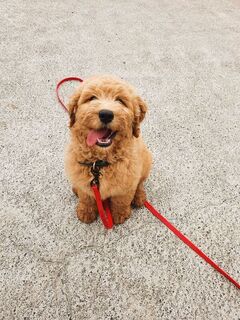 "Hi Brooke! Hope you and the family are well. Solomon has been an absolute gem these last few weeks. So well natured, loving and very smart/amazing with training! Independent when needed and permanently happy 24/7. Loves being around humans and obsessed with playing with other (vaccinated) dogs. Going to be a big boy! He's huge already. Just so happy and glad we went with you. Almost everyone can't deal with how cute and perfect he is."
​
Grant
​
---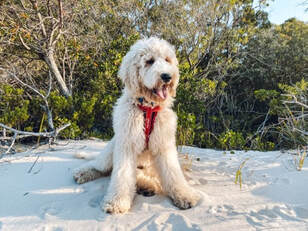 "Hey Brooke, just thought I'd let you know that our boy has settled in beautifully He'd toilet trained himself on the first day, and only cried the first night - sleeps right through now! We all love him so much - such a good boy
Thank you for this wonderful addition to our lives xxx "
Ariane
​
---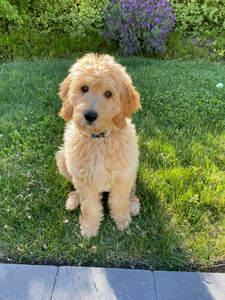 "Hi Brooke, sending you some photos of Billy. He is such a beautiful natured, fun-loving dog. The whole family adore him. He is growing rapidly and is super smart with his training. Thank you for breeding such beautiful Groodles. Cheers."
​ Penny

​
---